New releases on the New Zealand charts 15 January 1989
U2 – Angel of Harlem
UB40 – Where Did I Go Wrong?
Straitjacket Fits – Hail
Michael Jackson – Smooth Criminal
Bryan Ferry – Let's Stick Together
Poison – Every Rose Has Its Thorn
Fleetwood Mac – As Long As You Follow
Pat Benatar – Don't Walk Away
***
This is very straightforward really.  I was a huge fan of U2 at this time and this is a good song.  Not much really gets close except Hail.
UB40 had by this time become spectacularly boring.  I don't talk about Michael Jackson anymore.  Bryan Ferry's song is good, but it's a cover of his cover of another person's song so calling it "new" music is pushing things a bit.  Fleetwood Mac's song is so middle-aged it is excruciating.  If you watch the video (don't) Mick Fleetwood looks both bored out of his mind and angry as he taps away at this drums.  That's the right feeling for this song I think.  After all, there's a lot to like about Fleetwood Mac, but this song reads like they were deliberately trying to annoy all their fans.  Pat Benatar's song is very dull too, even though I actually have a soft spot for Pat.  All Fired Up was the lead single off this album and was also her final hit.  Don't Walk Away then could be a prophetic plea to her popularity.  A plea her popularity did not heed.
I've already talked about Every Rose Has Its Thorn, but when I re-watched the video it did give me one laugh out loud moment.  Alongside the lyric "Even though it's been a while now I can still feel so much pain" we get this image:
And all this time I thought it was emotional pain he was talking about, but he was really talking about a recurring ankle injury that required heavy strapping.
Hail is a good song.  Not as good as She Speeds, but I bet it sounds great live.  80s videos for Flying Nun bands are a whole genre in themselves.  The musicians in them look incredibly ordinary even if they have made an effort not to be, and the attempts to create visual interest are wonderfully handmade and ropey.  It all combines to make the very definition of endearing.  The only way you can see something similar nowadays is watching a film made by school students, and the fact that even some of their videos are of a higher quality shows how far our national visual literacy and the technology for shooting and editing has come.
***
At one point I owned Boy, War, The Unforgettable Fire, Rattle and Hum, Achtung Baby and All That You Can't Leave Behind.  I also had three books about them.  Actually, I still have those books.  I went to see them at the Love Comes to Town tour in Athletic Park.  Of all that the music I owned only have All That You Can't Leave Behind because it was on CD.  The rest I owned on tape and we all know what happens to tapes you used to thrash.  I only had Achtung Baby very briefly.  I left it in a spacies parlour with my passport one day (I have no idea why I had this tape, and my passport with me, or why I was at the spacies – a place I never went), and only got my passport back when I realised and returned an hour later.
The apex of my love for U2 was seeing the movie of Rattle and Hum with my uni friends at the Embassy.  It was loud and exciting and looked great on the big screen.  A week later we all saw a Led Zep movie which turned into a harrowing nightmare of distorted interminable treble guitar shrieking.
The Love Comes to Town tour was good.  Coming into Athletic Park the ground was littered with beer cans.  A carpet of cans people had skulled before going in (no alcohol inside but getting wasted right outside?  Totally fine).  There were also a fair few people wearing gang patches which seems strange to me now.  The concert was opened by the Holidaymakers whose Sweet Lovers song I detested at the time but is an ok cover.  Then we had B.B. King who was politely received.  Very few people in the audience (including me) had any real grasp of his standing.  We were muted and respectful.  Afterwards things perked up when event organisers played a Beatles greatest hits tape over the PA.
U2 started with Where the Streets Have No Name which is a perfect and exhilarating way to start.  I stood in the no man's land between the people in front of the stage, and the people in the stands, feeling like I should be dancing but not really wanting to because I felt super self-conscious, and I was with my mate.  We sort of danced a bit without looking at each other, our eyes glued on the stage which was so far away we would only see dimly moving figures who might have been U2 or a really good U2 covers band.  Afterwards there was the strangely exciting feeling of walking right down the middle of Rintoul Street with thousands of people back towards the city and noticing that on every fence were lined up beer cans and bottles, and the glistening splatter of urine.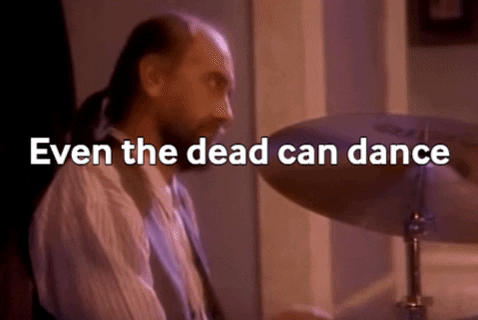 U2 – Angel of Harlem (8/10)
UB40 – Where Did I Go Wrong? (3/10)
Straitjacket Fits – Hail (8/10)
Michael Jackson – Smooth Criminal (-/-)*
Bryan Ferry – Let's Stick Together (-/-)**
Poison – Every Rose Has Its Thorn (3/10)
Fleetwood Mac – As Long As You Follow (2/10)
Pat Benatar – Don't Walk Away (3/10)
*We don't talk about Michael.
**Not new.